when you can get deals like this !!!
i have been to these stores in my travels..
but they recently opened one here in the 'burg
look at this little cutie
the shelves are removable
and re-disignable..
so you can adjust it
to fit whatever you want !

$10...whoo hoo

it is going to look just so great in my new studio
dont even know what i'm going to put in it yet,
but i LOVE it....
then.......
found these
white leather jewelry displays !
they need a little work and
a rub down with a mr clean magic eraser...
but...for this price.....cant be beat !
yes folks......15 CENTS each !!!
and.........
the piece d' la resistance
check out this wire rack !
they had 5 of them !!
and yes...i bought them all !!
they actually fit my prints perfectly
4 across - 6 high....24 different prints..
all readable....
awesome display !!
and they FOLD
they were new older stock....the boxes has wear, but not the racks...
i found this name brand and exact product on line
at $51.95 each...plus shipping..
my cost !!
$6.50 each !!!
now............that my friends is why i junk !!!!
(oh..and as an added bonus..
re-store money
all goes to habitat for humanity
charity !!
**************************
linking today to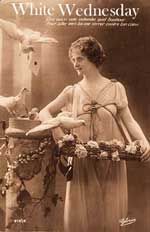 just because i've been away for too long...